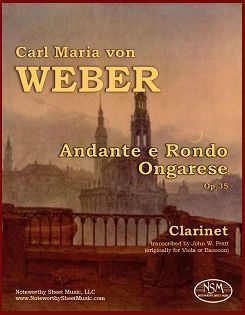 Andante e Rondo Ongarese, Op.35, by Carl Maria von Weber
Transcribed for Clarinet (and Piano) by John W. Pratt
Bb Clarinet Part, PDF $6.99
Carl Maria von Weber (1786-1826) is widely credited with being a founder and leading composer of the Romantic school. He was prolific, making major and influential contributions to almost every kind of music, including 7 operas and 3 Singspiels, other vocal and choral music, orchestral and wind music, and piano music. Yet his chamber music consists of just 9 works (counting a set of 6 minor violin sonatas as one), and only the Grand Duo, the flute trio, and the clarinet quintet are substantial. The scarcity of Weber's chamber music makes a transcription of a concertante work, especially a fine one not often played like the Andante e Rondo Ongarese, particularly welcome. Weber's Op.35 was first written in 1809 for viola (J79), but revised in 1813 for bassoon (J158) and apparently proved more popular in that form. Combining the viola's range and the bassoon's timbre points inexorably to the clarinet.
— excerpted from J.W.P.'s foreword to the edition
Clarinetists will find this work challenging and fun to play. We provide our clarinet transcription; a suitable piano part is readily available in the public domain as a free high quality pdf download of the score for bassoon and piano, which can be found at imslp.org: Piano Score
Bb Clarinet part, 5 pages; Total, 8 pages.
Preview