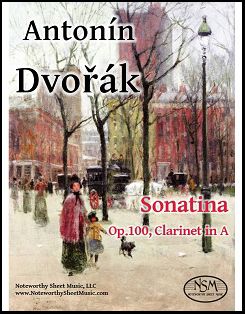 Sonatina, Op.100, by Antonín Dvořák
Transcribed for Clarinet in A (and Piano) by J.W.Pratt and C.A.Vater
A-Clarinet Part, PDF $11.99
From 1892 to 1895, Czech composer Antonin Dvorak (1841-1904) was in the United States, serving as the director of the National Conservatory of Music in New York City. He wrote his Sonatina in G major (Opus 100, B. 183) for violin and piano in 1893, and in some ways it reminds us of his triumphant Symphony No. 9, "From the New World", which was composed the same year. The Sonatina was written for and dedicated to Dvořák's own children. It has an average duration of 20 minutes and consists of four movements: I. Allegro risoluto; II. Larghetto (Indian Lament); III. Scherzo. Molto vivace; and IV. Finale. Allegro.
In transcribing this popular work for clarinet, we have incorporated several changes in the part to account for sonic differences between the clarinet and the violin. In so doing, every effort has been made to maintain the spirit and character of the original composition. In places the New World feel is even stronger with a wind instrument. We provide here our transcribed A-clarinet part only; Dvořák's original piano part works well with the new clarinet part, and the score for violin and piano is readily available in the public domain as a free pdf download from imslp.org.
A-Clarinet Part, 11 pages; Total, 14 pages.
Preview