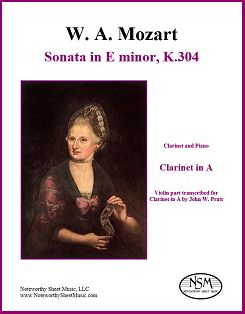 Sonata in E minor, K.304, by W. A. Mozart
Transcribed for Clarinet (and Piano) by John W. Pratt
Clarinet in A Part, PDF $5.99

Mozart's second group of violin sonatas, the seven "Mannheim" sonatas of 1778, were begun in Mannheim where the composer also worked on a flute commission. The violin parts rarely make significant use of double stops and are in general well suited to a wind instrument. Mozart's works in minor keys are rare and special: consider the G-minor quintet and Symphony No. 40. The K.304 sonata is his only work in E minor and it is mysteriously compelling in its simplicity. Mr. Pratt has created an excellent transcription of the Sonata in E minor, K.304 for A-clarinet. K.304 was written the same summer that Mozart's mother died, an association often pointed to and the inspiration for our cover image selection.
Note that Mr. Pratt's transcription offers the advantage of being in the original key, and that we provide the A-clarinet part only. The clarinet part works perfectly with the piano part in Mozart's score for piano and violin, which is in the public domain and readily available on imslp.org, free of charge.
For additional information about the seven Mozart Mannheim sonatas and Mr. Pratt's previous transcriptions of them for alto flute, please read his article Mozart's Mannheim Sonatas, which was originally published by Flute Focus and subsequently republished by NSM on our Resources – Reviews and Articles page.

Clarinet part, 5 pages; Total, 8 pages.
Preview