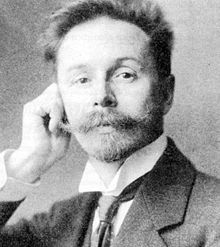 Romance, by Alexander Scriabin
Transcribed for Clarinet or Flute or Alto Flute (and Piano) by J. W. Pratt
Parts, PDF $0.00
Alexander Scriabin (1872-1915), the mystic Russian composer with music to match, wrote nine mind-bending orchestral works and myriad mostly miniature piano pieces. He began as a "Russian Chopin" and ended planning a week-long "Mysterium" to be performed in the Himalayas using "an orchestra, a large mixed choir, an instrument with visual effects, dancers, a procession, incense, and ... mists and lights" (Wikipedia).
The Romance of 1890, his only chamber work except one variation for string quartet, is nearer the Chopin end of that spectrum, though the piano part adds harmonic and rhythmic complexities not evident from the solo part alone.
- John W. Pratt, Jan. 19, 2016
Please click on the links to download your free PDFs:
Transcription for clarinet required no changes of pitch. Scriabin - Romance - Clarinet
The transcription for flute is raised an octave, except the last five measures. Scriabin - Romance - Flute
The transcription for alto flute raises MM21-24 and MM36-48 an octave. Scriabin - Romance - Alto Flute
The piano score is freely available on IMSLP.org.
Scriabin image courtesy of Wikimedia.org, PD-old.