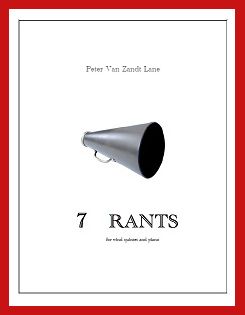 Seven Rants, by Peter Van Zandt Lane
Contemporary Composition for Flute, Oboe, Clarinet, Horn, Bassoon, and Piano, PDF $0.00
Peter Van Zandt Lane was commissioned to compose this piece for the 67th Composers Conference and Chamber Music Workshop at Wellesley College, which took place in the summer of 2011. The annual Conference is a wonderful two-week event, which brings together prominent young composers, superb professional musicians, dedicated amateur chamber musicians, and enthusiastic listeners. The professional musicians premiere the composers' new works and also coach the amateur musicians in chamber ensembles. Concerts are free and open to the public. For more information on the program, please visit the Composers Conference website.
After the Conference each year, one of the composer fellows is selected to create a new work for the next year's chamber music workshop participants. That composer returns the following summer to coach two groups of players on the new composition, in preparation for performances in the Saturday evening concerts of Week I and Week II. Peter Van Zandt Lane's Seven Rants was an enormous success in 2011, absolutely loved by the players and received exceptionally well by the audience. Written for flute, oboe, clarinet, horn, bassoon, and piano, Seven Rants is a series of seven delightful and diverse movements. The first and last movements are strict palindromes. The five middle movements or "rants" are "mini-concertos", each highlighting a different wind instrument. Great fun to play, and highly accessible.
With permission from both the composer and the Wellesley Composers Conference and Chamber Music Center, Noteworthy Sheet Music is thrilled to offer our customers a free PDF download of Seven Rants by Peter Van Zandt Lane. And please check out more of this terrific young composer's work, including two other listings in the NSM catalog, Danzas Mecánicas and Transverse Fractures.
Score, 37 pages: Flute part, 10 pages; Oboe part, 9 pages; Clarinet part, 10 pages; Horn part, 9 pages; Bassoon part, 9 pages; Piano part, 15 pages; Total, 103 pages.