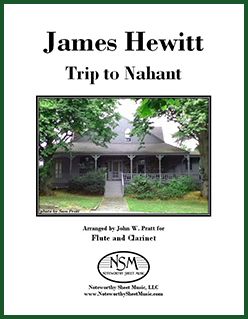 Trip to Nahant, by James Hewitt
Arranged as a Duet for Flute and Clarinet by John W. Pratt
Flute Part, Bb Clarinet Part, alternate A Clarinet Part, and Score ― PDF $5.99
James Hewitt (1770-1827) moved from London to New York in 1792 and was active in both New York and Boston as a composer, arranger, music publisher, performer, teacher, and orchestra conductor. In Hewitt's time, Nahant was an island connected to the mainland by a sandbar submerged at high tide, now a causeway. It was a popular, cool place for day trips from Boston and later became a fashionable summer resort.
Hewitt's Trip to Nahant, a favorite Rondo (1811) was written for keyboard, and is typical of American music of the period. It is charming, light in texture and subject, and well suited to arrangement for flute and clarinet. (adapted from JWP's foreword to the edition) We provide parts for Flute and Clarinet in Bb, along with an alternative part for Clarinet in A and a Score in concert pitch.
Flute part, 2 pages; Bb Clarinet part, 2 pages; alternate A Clarinet part, 2 pages; Score, 4 pages; Total, 16 pages.
Preview