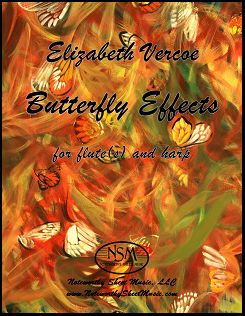 Butterfly Effects, by Elizabeth Vercoe
Contemporary Composition for Flute(s) and Harp
Flute Part and Harp Score, PDF $26.99

Butterfly Effects is an intriguing and varied piece in seven sections for flute and harp in which the flutist is asked to play bass, alto, piccolo and concert flutes. The titles are the names of butterflies: Mourningcloak, Banded Blue Pierrot, Common Jezebel, Question Mark, Monkey Puzzle, Karner Blues, and Psyche.
Excerpted from Elizabeth Vercoe's preface: "Butterfly Effects for flute and harp was written for the duo "2", with flutist Peter H. Bloom and harpist Mary Jane Rupert, who premiered the first parts of the piece in Bangkok and the entire work in Illinois in 2010. Along with the butterflies themselves, a quotation from Zhuangzi was the starting point for the music: "Am I a human who dreamt of being a butterfly or am I now a butterfly who dreams of being human?" The Taoist philosopher's dream illustrates, among other lessons, his sense of oneness with all living beings. // All seven movements are short, some only a minute in length. Mourningcloak, for alto flute and harp, is somber and reflective. Banded Blue Pierrot (concert flute) is short and glittering. Common Jezebel is a sultry tango for bass flute and harp that becomes increasingly chromatic and contrapuntal, requiring the harpist to do some fancy footwork. Question Mark, also for bass flute, requires the flutist to use "beat boxing" and key slap techniques that maximize the percussive qualities of the flute. Monkey Puzzle, in a kind of mimicry of the confusing antennae and pseudo antennae of the insect, flutters along to the middle of the piece and then proceeds backwards to the beginning in what is known as retrograde motion. Karner Blues adopts some of the riffs of blues instrumentalists and singers in the only movement for piccolo. Psyche, a word meaning breath or soul in Greek, is for concert flute and reminds us again of the Zhuangzi dream and the oneness of all living beings."
Butterfly Effects may be performed by one flutist playing multiple instruments, or by multiple flutists each playing one instrument for the relevant movement(s).
Our striking cover image for this publication is of the painting "Jezebel Tapestry #2" by Louisa King Fraser, used with the artist's permission.
Butterfly Effects for flute(s) and harp received a rave review by Nicole Riner in the Fall 2015 edition of the National Flute Association's membership magazine The Flutist Quarterly. Read the review in its entirety reprinted on the NSM website with permission from the NFA, or visit the NFA website.
Click to view a YouTube video of the duo "2" performing Banded Blue Pierrot.
Peter H. Bloom gave a lecture on "Effective Writing for Flutes and the Contemporary Flutist" at the 2018 Snow Pond Composers Workshop. In his presentation, Mr. Bloom discussed various topics using four contemporary works published by Noteworthy Sheet Music, including Butterfly Effects, as examples. We later published a free text version of this excellent presentation on our website, in the Reviews and Articles section, including some of the audio clips and supplemental written materials that Mr. Bloom used as demonstrations.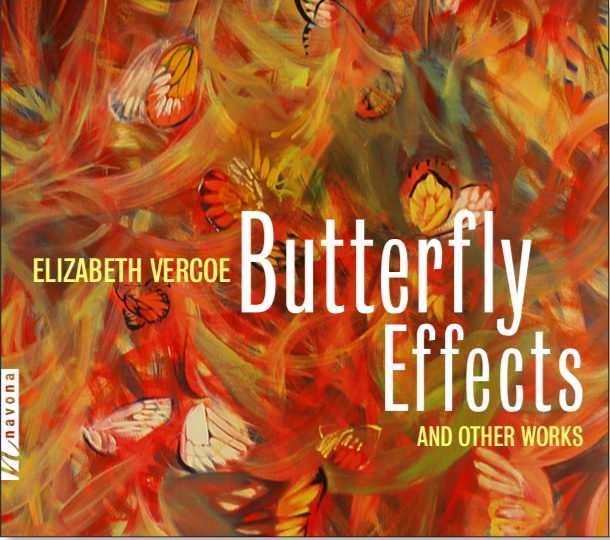 The Elizabeth Vercoe CD "Butterfly Effects and Other Works" was released in November 2018. The CD is available through Navona Records and features the title track performed by duo "2". Here is a quote from Cinemusical's review of the CD: "The album opens with a multi-movement work for flutes and harp, Butterfly Effects (2009). Across the seven movements, Vercoe explores the qualities of different instruments in the flute family: alto flute, bass flute, concert flute, and piccolo. The music has a slight impressionistic quality to it, aided by the harp's material. Against this is first a rather dreamy, dark opening movement ("Mourningcloak"); a faster-paced flitting "Banded Blue Parrot"; a tango ("Common Jezebel"); intriguing effects like beat-boxing ("Question Mark") and blues riffs ("Karner Blues"); and a palindromic compositional technique ("Monkey Puzzle"). The flute lines allow for registral exploration and often features some sinuous lines. Some are sultrier than others, but it is as if these are all like watercolor brushstrokes that tend to be somewhat introspective in this often stunningly beautiful work." Another nice review of this CD, written by Nicole Riner, came out in the Flutist Quarterly Spring 2019 edition; here's a quote: "I had the pleasure of reviewing the sheet music for Butterfly Effects for this publication in 2015 and found it to be wonderfully diverse and intriguing. /// Bloom and Rupert perform this work deftly and with a great sense of unity".
Flute part, 16 pages; Harp Score, 43 pages; Total, 66 pages.
Preview
=========================================================
We also offer a printed hard copy edition of Butterfly Effects for $45.88 plus a $5.95 shipping and handling fee. Due to prohibitively high international shipping rates, we ship print editions only to addresses in the USA. Please use the Contact Us form to let us know which hard copy publication(s) you would like to purchase, along with your email contact information and USPS mailing address. We will then send you a PayPal invoice for the sale and, once we receive notice from PayPal that you have paid for the item(s), we will ship your music to the address provided.
=========================================================