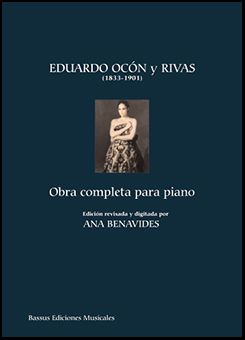 Eduardo Ocón y Rivas—Obra completa para piano
Compiled and Edited by Ana Benavides
Solo Piano, Print Edition, 61 pages, paperback, $21.99
Eduardo Ocón was one of Spain's most notable musical personages of the 19th century—an organist and composer, as well as the founder and director of the Malaga Conservatory. This book, Eduardo Ocón y Rivas—Obra completa para piano (copyright © 2007), is a compilation of the complete piano works of Eduardo Ocón, edited, renotated, and with an introduction by Ana Benavides. The works are rare masterpieces of Spanish piano music that have been rediscovered and reprinted in an edition formatted to facilitate reading by professionals and aficionados at any level. Here is a list of the works included in this anthology:
- Rapsodia Andaluza, Op.9
- Recuerdos de Andalucía, Bolero de Concierto, Op.8
- Rheinfahrt. Estudio Fantástico
- Gran Vals Brillante
- Meditación
- Estudio-Capricho para la mano izquierda, Op.10
- Amor inmortal
- En la playa. Barcarola
Ana Benavides is an internationally acclaimed pianist and Steinway Artist who has performed recitals in Europe, Australia, South America, and North America. A regular visitor to international festivals both as soloist and chamber musician, she has maintained a keen interest in rare Spanish piano music of the 19th century. Visit www.anabenavides.com to learn more about the artist and her work.
Eduardo Ocón y Rivas—Obra completa para piano was published by Bassus Ediciones Musicales and is distributed in the USA by Noteworthy Sheet Music. We sell the book in paperback print edition only, not as a PDF, and only for shipment to addresses within the USA.
To order, please use the Contact Us form to tell us which of NSM's print edition publications you would like to purchase, and include your email and USPS mailing addresses in the message. We will then send you a PayPal invoice for your purchase, which will include a $5.95 shipping and handling fee. Once we receive notice from PayPal that you have paid for the publication(s), we will ship your item(s) to the address you provided for delivery in 7-10 business days.
For sales of the book in Europe, please visit the Bassus Ediciones Musicales website.