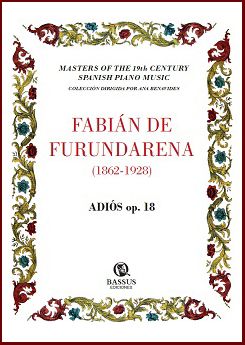 More Masters of 19th Century Spanish Piano Music - Solo Piano
Selected and Edited by Ana Benavides
Solo Piano Pieces, PDF editions
Please see our article on Masters of the 19th Century Spanish Piano Music, a compilation of rare Spanish masterpieces edited by Ana Benavides that is available in print edition only.
Here we offer seven additional difficult to find 19th century Spanish solo piano works, not included in the aforementioned print volume, for sale as individual convenient PDF downloads. Like the pieces included in the Masters book, these works were all carefully selected and re-notated by Dr. Benavides and provide insight into the music and style of several influential Spanish composers of the period.

With the exception of José Antonio Santesteban's Variaciones Sinfónicas which is 4 pages long, the other pieces listed below are short, 2-page piano works, each sold separately.
Ana Benavides is an internationally acclaimed pianist and Steinway Artist who has performed recitals in Europe, Australia, South America, and North America. A regular visitor to international festivals both as soloist and chamber musician, she has maintained a keen interest in rare Spanish piano music of the 19th century. Visit www.anabenavides.com to learn more about Ana Benavides and her work.
Fabián de Furundarena Menuetto, Op.14 PDF, $3.99
Fabián de Furundarena Mazurca, Op.15 PDF, $3.99
Fabián de Furundarena Zortzico, Op.17 PDF, $3.99
Fabián de Furundarena Adiós, Op.18 PDF, $3.99
Fabián de Furundarena Mazurca, Op.19 PDF, $3.99
Felipe Gorriti Segismunda, Habanera para piano PDF, $3.99
José Antonio Santesteban Variaciones Sinfónicas PDF, $7.99
Preview