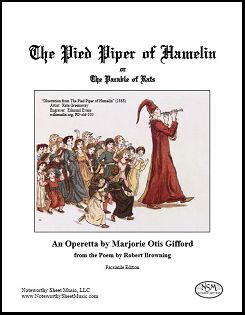 The Pied Piper of Hamelin, by Marjorie Otis Gifford
An Operetta, from the Poem by Robert Browning
Facsimile Edition by Noteworthy Sheet Music, LLC, PDF $24.99
Marjorie Otis Gifford (1909-2003) was a composer, choirmaster, and long-time music and piano teacher in CT and NY. At age 24, she put music to Robert Browning's classic poem The Pied Piper of Hamelin, creating a children's operetta for her students. In her preface to the operetta, Mrs. Gifford states that perhaps the best performance of The Pied Piper was at the Lenox School in NYC, where she was teaching in 1938; that production was directed by Antoinette Perry, who later became known as 'Tony' of the Tony Awards. Indeed, there are additional famous personalities and much fascinating history associated with the remarkable life of Marjorie Otis Gifford.
The Pied Piper of Hamelin operetta was brought to NSM's attention by Gale Finlayson, daughter of composer and music educator Walter Finlayson, and we created our facsimile edition of the operetta at Gale's request. Marjorie Otis Gifford and Walter Finlayson were great friends, and in her preface Mrs. Gifford credits Mr. Finlayson with putting her operetta down on paper. NSM has received permission to publish the operetta from both the executor of Mrs. Gifford's estate and from Deborah O'Connor, the artist who created the charming illustrations that grace the internal pages of the operetta. We hope that, in publishing our facsimile edition, we can contribute to sustaining the legacy of Marjorie Otis Gifford and enabling future generations of young music students to perform and enjoy her work.
Marjorie Otis Gifford's The Pied Piper of Hamelin operetta was performed by the Rutland Youth Theatre of Rutland, VT, on March 2, 2018; click the link to visit YouTube and watch clips of this performance videotaped and posted by Ms. Finlayson.
Score with music and lyrics for voices and piano accompaniment, 67 pages; text of the Robert Browning poem addendum, 7 pages; Total, 78 pages.


Preview
Please use the Contact Us link to order The Pied Piper of Hamelin operetta PDF. Upon receiving your request, we will send you an invoice via PayPal and, once PayPal acknowledges receiving your payment, we will email a copy of the PDF to you directly.