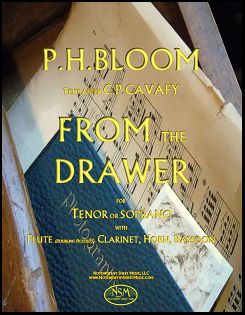 From the Drawer, by Peter H. Bloom
Contemporary Composition for Tenor or Soprano, with Flute (doubling Piccolo), Clarinet in B-flat, Bassoon, and Horn in F
Score and Parts, PDF $13.99
Peter H. Bloom is a Boston-based flutist, whose original compositions and arrangements are published by Noteworthy Sheet Music. From the Drawer was written for Tenor or Soprano, with Flute (doubling Piccolo), Clarinet, Bassoon, and Horn, and provides a musical setting for the intensely emotional poem by Constantine Cavafy.
Here are Peter Bloom's comments about From the Drawer from the composer's preface (Copyright © 2015) to the edition:
"Constantine Cavafy's 1923 poem, From the Drawer, captures the acerbic condition of longing, the impossibly private nature of affection, and the occultation of time. Its poignancy is universal; transcending gender, age, era, place, and even translation. Rather than rely on one particular translation of Cavafy's text, I've drawn on a number of versions to arrive at a paraphrase that both informs and is shaped by the musical score.
The musical setting is a sonic image of the intensely emotional response to a flood of memory that informs the poet's narrative: now pensive, now anxious, now wistful, now joyous, now fraught, now resigned, and ever mercurial." P. H. Bloom, September 19, 2015
Our sheet music edition of From the Drawer was featured on the New Products page of the Summer 2016 edition of "The Flutist Quarterly", journal of The National Flute Association.
Score, 14 pages; Tenor or Soprano part, 2 pages; Flute part, 4 pages; Clarinet part, 3 pages; Bassoon part, 3 pages; Horn part, 3 pages; Total, 29 pages.
=========================================================
We also offer a professionally-printed hard copy edition of From the Drawer for $23.78 plus a $5.95 shipping and handling fee. Due to prohibitively high international shipping rates, we ship print editions only to addresses in the USA. Please use the Contact Us form to let us know which hard copy publication(s) you would like to purchase, along with your email contact information and USPS mailing address. We will then send you a PayPal invoice for the sale and, once we receive notice from PayPal that you have paid for the item(s), we will ship your music to the address provided.
=========================================================