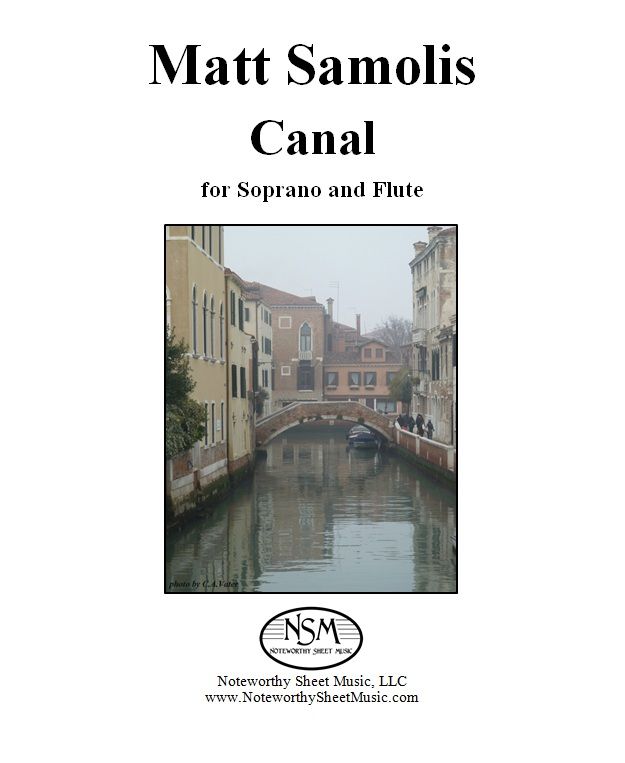 Canal, by Matt Samolis
Contemporary Composition for Soprano and Flute, PDF $13.95
Matt Samolis began studying flute, then later composition and tenor banjo. He has worked with ensembles at New England Conservatory, Brandeis University, and Tufts University, as well as Open Hand Theatre, Pilgrim Research Collaborative, and numerous other projects. Currently, his primary focus is composition, curating, and performing as a flutist with various local groups, as well as his drone alliance, The Metal & Glass Ensemble.
Canal is written in a free, self referential style, and uses the text of Roy Campbell's poem of the same name, written in 1920. Despite the somber text, the mood is idyllic and somewhat reminiscent of the contemporary musical language in use at that time. Each player also has a brief ad lib section, where they can interpret the material as they choose.
Click to listen to two snippets of an audio recording of Canal, performed by soprano Noell Dorsey and composer/flutist Matt Samolis:

Canal Owlseyes

Canal Whiteflame
Or listen to the full recording on Matt's website.
Score for Soprano and Flute, 5 pages; Total, 7 pages.
Preview
==============================================
US customers may purchase professionally-printed hard copies of Canal from Noteworthy Sheet Music for $20.93 plus a $5.95 shipping and handling fee. Please use the Contact Us form to let us know which print edition(s) you would like to purchase, along with your contact information and your USPO mailing address.