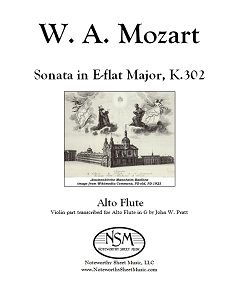 Sonata in E-flat Major, K.302, by W. A. Mozart
Transcribed for Alto Flute and Piano by John W. Pratt
Alto Flute Part, PDF $4.99
Mozart's Sonata in E-flat Major, K.302 has two movements, an Allegro and a rondo Andante grazioso. This ebullient sonata opens with a striking call to attention, much used later, which descends on the tonic triad but alternates half and quarter notes in 3/4 time, thus avoiding both square rhythm and repeated root positions on every down beat. The theme which follows is contrastingly gentle. The second movement offers a firmly forward-moving theme whose immediate repeat and final returns are variously and charmingly re-orchestrated. (excerpted from JWP's foreword to the edition)
We provide our transcription of the violin part for alto flute; the piano score is available in the public domain as a free pdf download from imslp.org/.
For additional information about the seven Mozart Mannheim sonatas and their alto flute transcriptions, please read the Mozart's Mannheim Sonatas article written by Mr. Pratt; the article was originally published by Flute Focus and subsequently republished by NSM on our Resources – Reviews and Articles page.
Alto Flute part, 5 pages; Total, 8 pages.
Preview