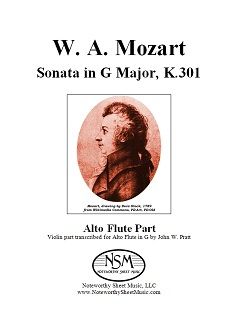 Sonata in G Major, K.301, by W. A. Mozart
Transcribed for Alto Flute and Piano by John W. Pratt
Alto Flute Part, PDF $4.99
This sunny sonata has two movements, an up-beat Allegro con spirito followed by an Allegro that is actually a sprightly minuet with a trio section in the minor, almost as near to a Beethoven scherzo as a Haydn minuet. The violin leads as often as the piano, including at the beginning and throughout the trio, but is largely spared Mozart's typical keyboard passage work. As with six other violin sonatas composed in 1778, the first of Mozart's maturity, the violin part rarely makes significant use of double stops and is in general very well suited to alto flute. In fact, K.301 was begun with flute in mind. We provide our transcribed alto flute part. The piano score is available in the public domain as a free pdf download from imslp.org/.
For additional information about the seven Mozart Mannheim sonatas and their alto flute transcriptions, please read the Mozart's Mannheim Sonatas article written by Mr. Pratt; the article was originally published by Flute Focus and subsequently republished by NSM on our Resources – Reviews and Articles page.
Alto Flute part, 4 pages; Total, 6 pages.
Preview