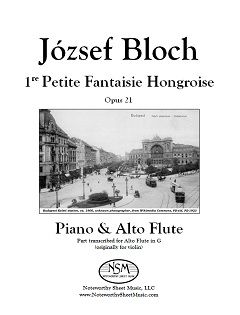 Petite Fantaisie Hongroise No.1, Op.21, by J. Bloch
Transcribed for Alto Flute and Piano by C.A.Vater
Piano Score and Alto Flute Part, PDF $5.99
József Bloch (1862-1922) was a Hungarian violin virtuoso, composer, and professor at the National Academy of Music and the National Conservatory (www.jewishencyclopedia.com). His Petite Fantaisie Hongroise No.1, Opus 21, was written for piano and violin and published by Bárd, ca. 1901. We thought this piece would work beautifully on alto flute, so we created a transcription of the violin part. In the range written for the Petite Fantaisie Hongroise, the alto flute may evoke the dark, mournful tone of the modern tárogató, which is often referred to as the Hungarian national instrument. We provide both our transcribed alto flute part and a re-notated edition of the piano score.
Alto Flute part, 3 pages; Piano Score, 6 pages; Total, 12 pages.
Preview
=================================
For those who would prefer to purchase a professionally-printed hard copy of this piece, rather than the PDF download offered above, our print edition of the Bloch Petite Fantaisie Hongroise No.1, Op. 21 transcribed for Piano & Alto Flute is available directly from NSM for $13.49 plus a $5.95 shipping and handling fee to addresses in the USA. Use the Contact Us form to let us know which hard copy publication(s) you would like to purchase, along with your email contact information and USPS mailing address. We will then send you a PayPal invoice for the sale and, once we receive notice from PayPal that you have paid for the item(s), we will ship your music to the address provided.