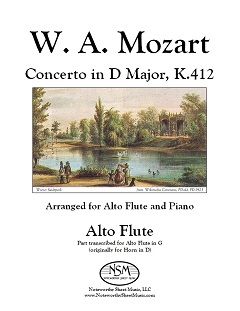 Concerto in D Major, K.412, by W. A. Mozart
Transcribed (from horn and piano arrangement) for Alto Flute by C.A.Vater
Alto Flute Part, PDF $3.99
Mozart's Concerto for Horn in D major for Horn and Orchestra is scored for solo horn in D, with two oboes, two bassoons, and strings. Henri Kling (1842-1918), horn player, composer, conductor, and professor, arranged the concerto for horn and piano. We used the Kling arrangement as the source from which to create a transcription of the horn part for alto flute. The piano score is in the public domain and available as a free pdf download from other sources such as imslp.org/.
The Concerto in D major, K.412 is a short work of approximately 8-10 min duration, consisting of only two movements - an Allegro and a Rondo Allegro. The movements are light and joyous, and pose no particular technical challenges to the alto flute player. The written range is quite limited, extending only from D5 to E6. Thus, this piece can be played by less advanced students as well as by more experienced alto flutists.
Alto Flute part, 4 pages of music; Total, 8 pages.
Preview