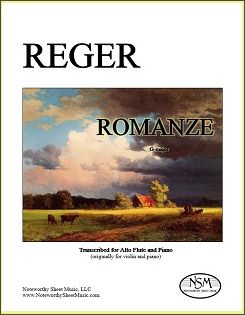 Romanze, by Max Reger
Transcribed for Alto Flute in G and Piano by C.A.Vater
Alto Flute Part and Piano Score, PDF $4.99
Reger's Romanze is a lovely, short piece in G major, consisting of a single movement, Andante con moto. Written in 1902 for violin (or cello) and piano, the work was published by Breitkopf und Härtel ca.1920 and is now in the public domain. Numerous arrangements and transcriptions of the Romanze, including those for C-flute, trumpet, cello, clarinet, viola, or alto saxophone and piano, and even one for oboe and accordion, attest to the piece's popularity. The Romanze works beautifully on alto flute, and Noteworthy Sheet Music's 2016 edition includes both our transcribed alto flute part and a re-notated piano score.
Cover image courtesy of Wikimedia Commons, PD-old: "Bavarian Landscape", by Albert Bierstadt (1830–1902).
Alto Flute Part, 1 page; Score 2 pages; Total, 6 pages.
Preview