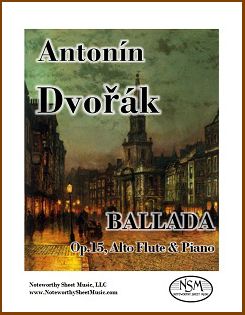 Ballada, Op. 15, by Antonín Dvořák
Transcribed for Alto Flute and Piano by C.A.Vater
Alto Flute Part and Piano Score, PDF $7.99
The Czech composer Antonín Leopold Dvořák (1841-1904) first visited England in 1884, at the invitation of the Philharmonic Society of London. He conducted several of his works there and and was commissioned to compose a new symphony for the Philharmonic Society, his Symphony No. 7 in D minor, Op.70, which he conducted in London on April 22, 1885. Dvořák, who was well-received in England for his longer works, including cantatas and oratorios, was asked by London publishers to write shorter compositions as well. The Ballada, composed by Dvořák in late 1884 shortly after he completed his Symphony No. 7, was written specifically for publication in the Christmas edition of the London Magazine of Music. It is a short work of approximately six minutes duration for violin and piano. Written in the key of D minor, the Ballad's outer sections are solemn and melancholy while the contrasting central Allegro agitato is fervid and intense. The piece works nicely on alto flute, and our transcription required few adaptations from the original violin part.
[Sources for Dvořák biographical information: Baker's Biographical Dictionary of Musicians (Eighth Edition, Revised by Nicolas Slonimsky) and the internet website http://www.antonin-dvorak.cz/en/ballad.]
Score, 8 pages; Alto Flute part, 3 pages; Total, 14 pages.
Preview