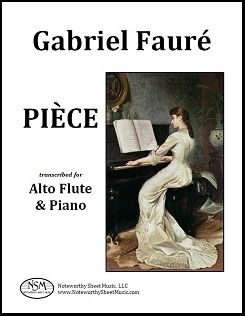 Pièce (Vocalise-Étude), by Gabriel Fauré
Transcribed for Alto Flute and Piano by C.A.Vater
Alto Flute Part and Piano Score, PDF $4.99
Vocalises are songs without words written to provide technical challenges for singers; they are designed to develop flexibility and control, and thus often serve as vocal warm-up exercises. Gabriel Fauré composed his Vocalise-Étude in 1906, and it was published by Leduc the following year. The original piece, in the key of E minor and marked Adagio molto tranquillo, includes a piano accompaniment and incorporates various difficulties for the vocal soloist, including wide intervals, unexpected harmonies, and demanding rhythms.
Fauré's Vocalise-Étude has long been recognized as a particularly lovely and poignant piece of music, not merely a vocal exercise but a musical work of intrinsic beauty. Under its alternative name Pièce, the Vocalise-Étude has been transcribed for various orchestral instruments, including bassoon and piano, flute and piano, and oboe and harp. We at Noteworthy Sheet Music think the alto flute, with its rich, mellow tone, is the perfect instrument for this moving and somewhat melancholy Fauré melody. Our transcription for alto flute and piano is based on the version of the Vocalise-Étude for medium voice, in the key of D minor, published by Alphonse Leduc in 1907 and now in the public domain.
Alto Flute part, 1 page; Piano Score, 3 pages; Total, 8 pages.
Preview