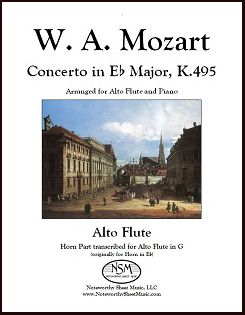 Concerto in E-flat Major, K.495, by W. A. Mozart
Transcribed for Alto Flute (from horn and piano arrangement) by C.A.Vater
Alto Flute Part, PDF $7.99
Mozart's Horn Concerto No.4, K.495, was composed in 1786 and scored for solo horn, with two oboes, two horns, and strings (bassoon ad libitum). The work consists of three movements—Allegro moderato, Romanza-Andante, and Rondo-Allegro vivace—with the rousing Rondo clearly evoking a hunt scene. The horn player Henri Kling (1842-1918) created arrangements of all the Mozart horn concerti for horn and piano. His transcription of K.495 was published by Breitkopf und Härtel, n.d. (ca. 1882). We used the Kling edition, now in the public domain and available as a free pdf download from imslp.org, to create a transcription of the horn part for alto flute. Our edition incorporates adjustments that account for differences in range and sonority between the alto flute and horn, while striving to maintain the style and character of the original composition.
We provide the alto flute part only; the piano score (horn and piano) by Henri Kling is freely available from imslp.org.
Alto Flute part, 7 pages; Total, 10 pages.
Preview