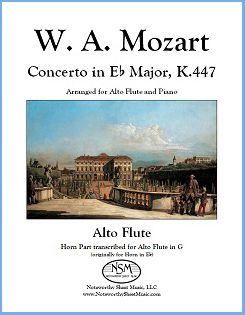 Concerto in E-flat Major, K.447, by W. A. Mozart
Transcribed for Alto Flute (from horn and piano arrangement) by C.A.Vater
Alto Flute Part, PDF $5.99
Wolfgang Amadeus Mozart (1756-1791) wrote four horn concertos for his good friend Joseph Leutgeb (1732-1811). Leutgeb was a virtuoso horn player, who served as principal horn in Salzburg and thus became a colleague of Leopold Mozart, during the young Wolfgang's early years. Leutgeb appears to have remained a friend and inspiration for W. A. Mozart throughout the composer's life.
The Mozart horn concertos are delightful, joyous works. The third horn concerto, K.447, like two of the three others, was written in the key of E-flat major. It is thought to have been composed in 1787. The work is in typical concerto form, consisting of three movements—an Allegro, a Romanze, and another Allegro, which together have an average performance duration time of approximately 15 minutes.
K.447, Concerto for Horn in E-flat major for Horn and Orchestra, is scored for solo horn in E-flat, with two clarinets, two bassoons, and strings. Henri Kling (1842-1918), a horn player who was also a composer, conductor, and professor, arranged the concerto for horn and piano. His transcription was published by Breitkopf und Härtel, n.d. (ca. 1890). We used the Kling edition, now in the public domain and available as a free pdf download from imslp.org, to create a transcription of the horn part for alto flute. Our edition incorporates adjustments that account for differences in range and sonority between the alto flute and horn, while striving to maintain the style and character of the original composition.
We provide the alto flute part only; the piano score (horn and piano) by Henri Kling is freely available from imslp.org.
Alto Flute part, 5 pages; Total, 8 pages.
Preview