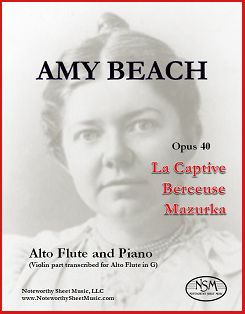 3 Compositions, Op.40, by Amy Beach
Transcribed for Alto Flute and Piano by C.A.Vater
Piano Score and Alto Flute Part, PDF $10.50
Amy Marcy Cheney was born in Henniker, New Hampshire in 1867 and began composing music at the age of four. Initially home-schooled as a pianist, she continued her music studies in Boston and made her professional debut as a pianist at age 16. She later became a soloist with the Boston Symphony Orchestra. At 18, she married the prominent Boston physician Dr. Henry Harris Aubrey Beach and began using "Mrs. H. H. A. Beach" as her professional name. She continued to perform occasionally as a pianist, but for many years she focused her musical skills primarily on composing. After her husband's death in 1910, Mrs. Beach resumed her performing career, beginning with a three year tour of Europe, while also continuing to write music. Her works were received with great acclaim, and Amy Beach became one of America's leading composers and the first American woman composer to achieve widespread recognition in the United States and abroad. During her lifetime, she wrote more than 150 numbered works, spanning a variety of genres that included piano pieces, chamber music, orchestral works, sacred choral music, and a great many songs.
Amy Beach's 3 Compositions for Violin and Piano, Op.40, were first published in 1898. Written in the romantic style, the three pieces are (1) the beautiful but sombre La Captive, (2) a lovely, lyrical Berceuse, and (3) a lively but still tender Mazurka. In addition to alto flute transcriptions of all three pieces, we include in our edition a version of the Mazurka transcribed for flute and piano (score and part), for those wishing to give this option a try as well.
Alto Flute part, 4 pages; Piano/Alto Flute Score, 10 pages;
Alternate "Mazurka" Flute part, 2 pages; "Mazurka" Piano/Flute Score, 5 pages;
Total, 29 pages.
Preview