Berceuse, Op.16, by Gabriel Fauré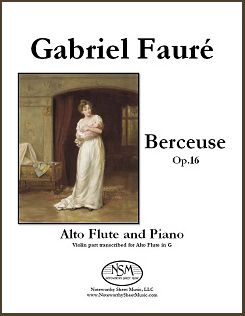 Transcribed for Alto Flute and Piano by C.A.Vater
Piano Score and Alto Flute Part, PDF $6.99
Gabriel Fauré composed his Berceuse (Op. 16) for violin (or cello) and piano in 1878-1879, and it was first published by J. Hamelle, Paris. To this day, the Berceuse remains one of Fauré's most beloved and popular works. The piece is simple but beautiful, short, with a quiet sweet melody that appeals to both performers and audiences alike. It is no wonder that over the years the Berceuse has been transcribed for many other instruments; arrangements have been created for solo piano, viola, flute, alto saxophone, flute and harp, and string quartet, in addition to the composer's own arrangement for violin and orchestra.
Now, in response to an excellent suggestion we received from one of our customers, we add our own version of the Fauré Berceuse, a transcription for alto flute and piano. Perhaps we are biased, but we think the alto flute is a wonderful instrument choice for this lullaby. The piece is suitable for players of all levels.
Alto Flute part, 2 pages; Piano Score, 5 pages; Total, 12 pages.
Preview