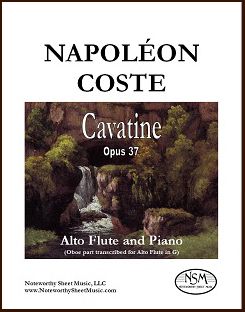 Cavatine, Op.37, by Napoléon Coste
Transcribed for Alto Flute and Piano by C.A.Vater
Piano Score and Alto Flute Part, PDF $8.25
Napoléon Coste (1805-1883) was born in a small village in the Départment of the Doubs, France. He began to play guitar at the age of 6, studying with his mother who was an accomplished guitar performer. Napoléon himself began teaching and performing on guitar as a teenager. At age 24 he moved to Paris, where he studied under Fernando Sor, the renowned Spanish classical guitarist and composer. Coste quickly established himself as a virtuoso and is widely acknowledged as the dominant French guitarist of his era.
Coste became famous not only as a guitar soloist, but also as a major composer of some 60 works, most of which were written for guitar. His Op.37 "Cavatine" is a short, single-movement piece for piano and oboe (or violin or flute). Melodic but lively in places, the work should appeal to amateurs of a moderate or higher skill level. Our transposition of Cavatine falls nicely within the range of the alto flute and sounds appealing and completely natural on that instrument. The Noteworthy Sheet Music edition includes a score for piano and alto flute, in addition to the transcribed alto flute part.
Alto Flute part, 3 pages; Piano Score, 8 pages; Total, 16 pages.
Preview