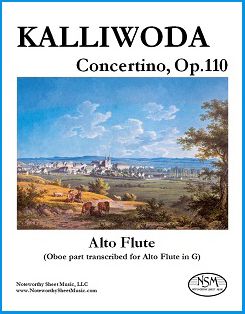 Concertino, Op.110, by J. W. Kalliwoda
Transcribed for Alto Flute by C.A.Vater
Alto Flute Part ― PDF $6.99
Johann Wenzel Kalliwoda (1801‒1866) was a Bohemian violinist, orchestra conductor, and prolific composer who wrote numerous compositions, including operas, symphonies, various works for violin and orchestra, piano pieces, and chamber music works. He was considered a significant composer in his day, especially for pieces written early in his career, and his music received the praise of Robert Schumann. Kalliwoda was immensely popular and a favorite of American concert-going audiences in the first half of the 19th century.
His Concertino, Op.110, for oboe and orchestra was first published by Schott in 1841. An arrangement of the work for oboe and piano is available on imslp.org, in addition to an orchestral score and parts for oboe, violins I and II, violas, cellos, and basses. Like many of Kalliwoda's earlier compositions, the Concertino is highly melodic and energetic. We created a transcription of the solo oboe part for alto flute that gives alto flutists an opportunity to experience first-hand the joy of playing this style of classical 19th century bravura work, for which the alto flute is well-suited. Perhaps it should be pointed out that Theodore Boehm, who developed the modern alto flute in G during the mid-1850's, intended that the alto become a new instrument in its own right, utilized in a variety of musical roles and characterized by a unique quality of sound. Indeed, we think Boehm likely would have approved of our creating new opportunities, such as this transcription of the Kalliwoda Concertino, to show off the alto flute's versatility and the alto flute performer's virtuosity.
We provide our alto flute part only; appropriate parts for piano or orchestral accompaniment may be obtained as free pdf downloads from public domain resources, such as imslp.org.
Alto Flute part, 7 pages; Total, 10 pages.
Preview