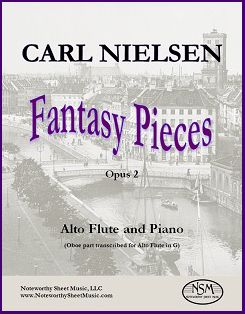 Fantasy Pieces, Op.2, by Carl Nielsen
Transcribed for Alto Flute by C.A.Vater
Piano Score and Alto Flute Part, PDF $9.99
The Fantasy Pieces for Oboe and Piano, Op.2 (Fantasistykker for obo og klavier) were composed in 1889, when Nielsen was 24. They were written in the romantic idiom before his compositions became more experimental, chromatic, and dissonant. Nielsen wrote the Fantasy Pieces for his good friend Olivo Kraüse, the Danish oboist and composer to whom the work is dedicated. Nielsen and Krause were colleagues in the Royal Chapel Orchestra. The Fantasy Pieces were premiered by Krause and the pianist Victor Bendix at a Royal Orchestra Soirée in Copenhagen in 1891. Arrangements of the pieces for violin (with orchestra or piano), created by Hans Sitt, subsequently became quite popular.
Our transcription of the oboe part for alto flute is a simple transposition, as the entire oboe part falls nicely within the range of the alto flute. Although the tonal characteristics of the alto flute and oboe are very different, the Fantasistykker sound so natural on alto flute that the listener might think that the two pieces were composed specifically for that instrument.
The first piece, Romance, is a beautiful andante that allows the alto flutist to exploit the rich, sensuous sonority of the instrument. The contrasting second piece is a lively Humoresque in which the performer's lightheartedness and technical agility prevail.
Alto Flute part, 3 pages; Piano Score, 10 pages; Total, 18 pages.
Preview