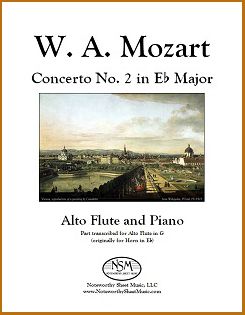 Concerto No.2 in E-flat major, K.417, by W. A. Mozart
Transcribed for Alto Flute (from horn and piano arrangement) by C.A.Vater
Piano Score and Alto Flute Part, PDF $9.99
Mozart wrote his Concerto No. 2 in E-flat major for Horn and Orchestra for his good friend, the virtuoso horn soloist Joseph Leutgeb (c.1745-1811), who became first horn in the orchestra of the Salzburg archbishop in 1770. The concerto was completed in 1783. Its movements are light, joyous, and teeming with melody: a wide-ranging opening allegro, a slow middle movement, and a final rondo. The second movement Andante is particularly lyrical and beautiful, whereas the concluding Rondo is quite comic with an obvious hunting theme.
The concerto was arranged for horn and piano by Henri Kling (1842-1918), horn player, composer, conductor, and professor. We used the Kling arrangement, which was published ca.1890 and is now in the public domain, as the basis of our transcription of the concerto for alto flute and piano. We introduced only minor changes to the solo horn line to adapt it for alto flute, and those alterations were made with sensitivity and the intention of preserving Mozart's inspired creation to the fullest extent possible.
Alto Flute part, 4 pages; Piano Score, 16 pages; Total, 22 pages.
Preview