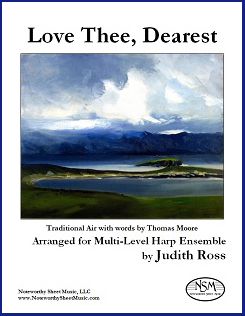 Love Thee, Dearest, Thomas Moore
Arranged for Multi-Level Harp Ensemble by Judith Ross
Score and Parts for Harps I, II, III, and IV; PDF $8.75
Love Thee, Dearest is a popular Irish ballad with lyrics written by the famous poet Thomas Moore (1779-1852). Our harp ensemble arrangement was created by Judith Ross and is specifically designed for performance by harpists at varying levels. The Beginner, Easy, and lntermediate level parts may be performed on lever harp by one or more harpists. The Advanced part, for the teacher or advanced student, is designed to be performed by one person on pedal harp.
Judith Ross, founder and director of the Massachusetts Harp Ensemble, has created numerous harp ensemble arrangements over the years. She welcomes harpists of all levels of expertise into her group, so most of her arrangements are designed to include parts of different levels of difficulty. That way, anyone can have a chance to participate and join in the fun. The Massachusetts Harp Ensemble is a Boston area treasure, enjoyed and appreciated by local harp students and their teachers, many of whom are familiar with Ms. Ross' arrangements in manuscript form. Now some of these works are available to the broader harp community in new, typeset editions prepared by Noteworthy Sheet Music.
Score, 5 pages; Harp I part, 1 page; Harp II part, 1 page; Harp III part, 2 pages; Harp IV part, 1 page; Total, 16 pages.
Preview
================================================
US customers may purchase professionally-printed hard copies of Love Thee, Dearest directly from Noteworthy Sheet Music for $14.85 plus a $5.95 shipping and handling fee. Please use the Contact Us form to let us know which edition(s) you would like to purchase, along with your contact information and your USPO mailing address.