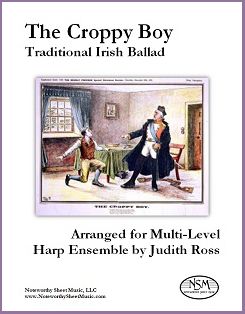 The Croppy Boy, Traditional Irish Ballad
Arranged for Multi-Level Harp Ensemble by Judith Ross
Score and Parts for Harps I, II, III, & IV, PDF $8.97
The Croppy Boy is one of the saddest lrish ballads of the 1798 rising. The title refers to the young rebel soldiers, who wore their hair closely cropped. This arrangement is specifically designed for performance by harpists at varying levels. The Beginner, Easy, and lntermediate level parts are intended for lever harp, but can be played on pedal harp, and may be performed by one or more harpists. The Advanced harp part, for the teacher or advanced student, is designed to be performed by one person on pedal harp, but can probably also be done on a lever harp having all the high and low strings.
Judith Ross received a B.M. with Distinction and M.A. from the Eastman School of Music. She studied harp with Eileen Malone and Pierre Jamet, and harmony, keyboard, and composition with Nadia Boulanger (considered one of the greatest musical pedagogues of the 20th century). She is a winner of the Paderewski Gold Medal in piano. Ms. Ross has given frequent solo and orchestral performances throughout New England, and is the founder and director of the Massachusetts Harp Ensemble. She has taught at the State University College of NY at Fredonia, Boston University, Lesley College, New England Conservatory, and El Coro de Niños in San Juan, Puerto Rico. For 37 years she taught solfège, harmony, form and analysis, and harp at the Longy School of Music in Cambridge, MA, where she is former Chair of the Theory Department.
Score, 7 pages; Harp I part, 1 page; Harp II part, 2 pages; Harp III part, 2 pages; Harp IV part, 1 page; Total, 22 pages.
Preview
===================================================
US customers may purchase professionally-printed hard copies of The Croppy Boy directly from Noteworthy Sheet Music for $15.25 plus a $5.95 shipping and handling fee. Please use the Contact Us form to let us know which print edition(s) you would like to purchase, along with your contact information and your USPO mailing address.