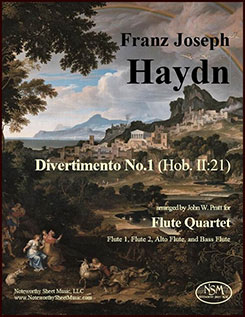 Divertimento No. 1 (Hob. II:21; Op. 2 No. 3) by Franz Joseph Haydn
Arranged for Flute Quartet by John W. Pratt (originally for string quartet plus 2 horns)
Score and Parts for Flute 1, Flute 2, Alto Flute, and Bass Flute, PDF $11.97
excerpted from John W. Pratt's © preface to the edition:
"Haydn (1732-1809) is credited with developing the classical forms of both the string quartet and the symphony, starting from the loose structures and permissive instrumentation of Baroque instrumental music. … His first string quartets are his Opus 1 Nos. 1-4 and 6, and Opus 2 Nos. 1-6, thus eleven. Opus 1 No. 5 is somewhat later, added to make a set of 6, apparently a perfect number in music publication as well as in mathematics. Opus 2 Nos. 3 and 5 are quartet arrangements of two divertimentos including also two horns and listed in the Hoboken catalogue as II:21 and 22 … The spirit and spiritedness of the two divertimentos suit them to flute quartet, as does the distribution of activity. In addition, a flute quartet combines the unified timbre of a string quartet with the wind sound of the horns, while the early string quartets do not exploit the string sound per se. Transposition up a step puts the cello and viola parts of Hob. II:21 mostly within the bass and alto flute ranges and makes the violin parts if anything more comfortable for C flutes."
There are 5 movements in total: I-Allegro molto, II-Minuet, III-Adagio, IV-Minuet, and V-Finale Allegro. To get some sense of how the Op. 2 No. 3 quartet works with flutes in lieu of strings, listen to this computer-generated audio clip of the first movement—realizing it will of course sound considerably better played in-person on real instruments, post-pandemic.
Score, 11 pages; Flute 1 part, 6 pages; Flute 2 part, 6 pages; Alto Flute part, 5 pages; Bass Flute part, 5 pages; Total, 38 pages.
Preview