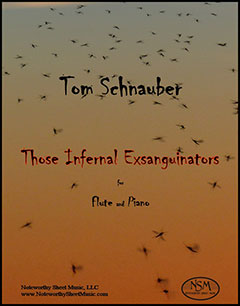 Those Infernal Exsanguinators, by Tom Schnauber
Flute part and Piano score, PDF $17.97
Summer in Minnesota. The sun is setting, the broad sky is clear, and the cool light of dusk promises a welcome respite from the day's heat and humidity. You step out into the stillness and stand, gazing at the orange-red horizon, thankful for the dimming light and approaching night. And then they come. Those insidious little creatures, those vile insects that define and destroy the season: the mosquitoes. Only some at first, few enough to make you think that if you swat them away, you can still enjoy the evening air. But then more come, and more, and even more. They whine, you moan, they sting, you slap, they swarm, you flail. Soon, your body a mass of swelling welts, you realize that the twilight peace you had hoped for when you left your house is a sham, an impossible illusion shattered by the piercing terror of those infernal exsanguinators. Angry and itching, you run back inside and slam the door shut. —Tom Schnauber
In October, 2020, we at NSM were delighted to welcome Tom Schnauber as one of our contributing contemporary composers; click the link to read about this acclaimed composer's career and his many exciting projects.
Those Infernal Exsanguinators is a compelling piece; to discover this for yourself, please visit Tom Schnauber's soundcloud page and listen to a recording of the work beautifully performed by Tamara Thweatt, flute, and Hey-Seon Choi, piano.
Piano Score, 18 pages; Flute part, 7 pages; Total, 28 pages.
Preview