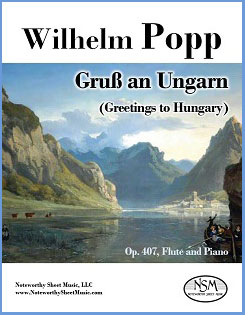 Greetings to Hungary, Op.407, by Wilhelm Popp
Flute and Piano
Flute Part and Piano Score, PDF $0.00
Wilhelm Albrecht Otto Popp (1828-1903) was an esteemed German composer, flutist, and pianist. He received his flute training from Caspar Kummer and Louis Drouet, and served as court pianist and flutist at the Ducal Saxon Court Theater in Coburg-Gotha. In 1867 he moved to Hamburg and became first flute of the Hamburg Philharmonic Orchestra. Popp composed some 600 works, many of which were written for flute and piano; most of his compositions were published in his lifetime and were well-known to musicians of his day.
Wilhelm Popp's Gruß an Ungarn (Greetings to Hungary) was first published for flute and orchestra in 1890, and an edition for flute and piano was published in 1899. NSM re-notated the flute and piano version, changing only the formatting and adding bar numbers and a new cover page. With a decidedly Hungarian sentiment, this piece is great fun to play and provides an enjoyable, exciting listen for audiences as well.
Click for a free download of our re-typeset edition of Popp's Gruß an Ungarn.
Piano score, 8 pages; Flute part, 5 pages; Total 16 pages.