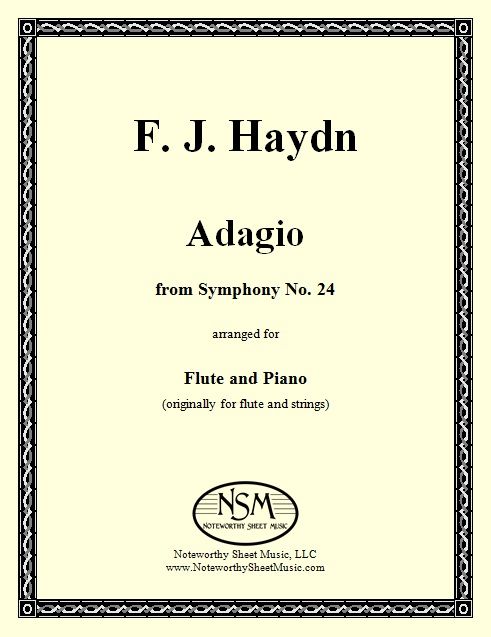 Adagio from Symphony No. 24, by F. J. Haydn
Arranged for Flute and Piano by John W. Pratt
Flute Part and Piano Score, PDF $6.00
Franz Joseph Haydn (1732-1809) wrote his Symphony No. 24 in 1764. The second movement is a beautiful Adagio for solo flute accompanied by strings, with a place for a cadenza. We offer here a piano transcription of the string accompaniment, with appropriate adaptations in sonority, and the flute part with a written cadenza based closely on Haydn's material and style. Players will find the resulting one-movement flute sonata both affecting and highly rewarding.
Flute part, 2 pages; Flute & Piano score, 4 pages; Total, 10 pages.
Preview
======================================================
We also offer a professionally-printed hard copy edition of the Haydn Adagio for $13.49 plus a $5.95 shipping and handling fee. Due to prohibitively high international shipping rates, we ship print editions only to addresses in the USA. Please use the Contact Us form to let us know which hard copy publication(s) you would like to purchase, along with your email contact information and USPS mailing address. We will then send you a PayPal invoice for the sale and, once we receive notice from PayPal that you have paid for the item(s), we will ship your music to the address provided for delivery in 7-10 business days.