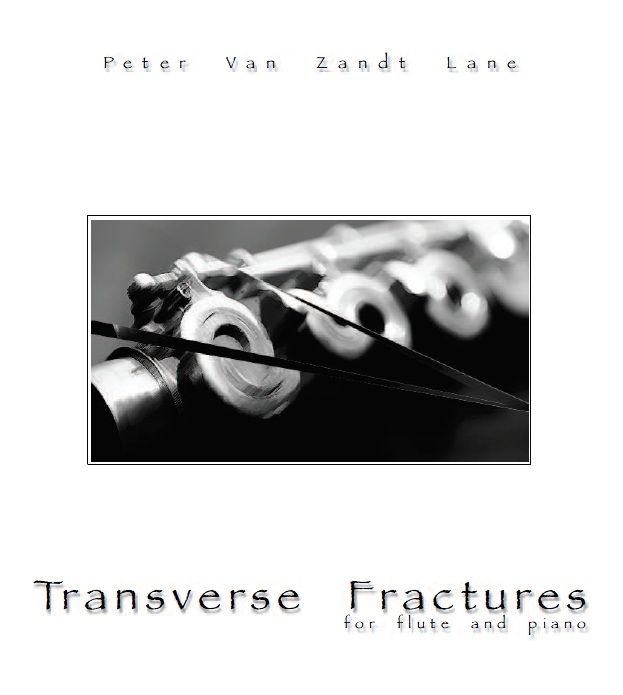 Transverse Fractures, by Peter Van Zandt Lane
Contemporary Composition for Flute and Piano, PDF $20.00
Peter Van Zandt Lane's compositions have been featured on various festivals and conferences such as the New York City Electroacoustic Music Festival, Spark Festival, FEASt Fest, SEAMUS National Conferences, Forecast Music, Festival Miami, and LIPM/IEMS at the world renowned Teatro Colón in Buenos Aires. He has received awards in several competitions including the CRS Young Composers competition, the Forecast Music International Composers Competition, The Greater Miami Youth Symphony Composition Competition, and the Cleveland Orchestra Miami Residency Call for Scores. He has been a finalist twice for the ASCAP/SEAMUS Student Commission, and is an active member of the Composers in Red Sneakers, one of the country's longest-running composer consortiums.
Transverse Fractures (2009) is a short, virtuosic, high-energy duet for flute and piano. The piece was derived from a larger, longer chamber work entitled Partial Fractures, which the composer wrote for NotaRiotous Ensemble. Transverse Fractures, approximately 5 minutes long, is a piece of considerable difficulty for both the flutist and the pianist.
Piano Score, 13 pages; Flute Part, 7 pages; Total, 23 pages.
Preview