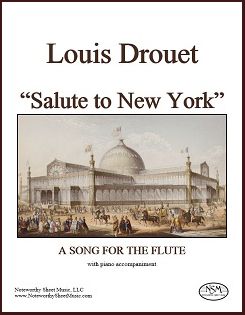 Salute to New York, A Song for the Flute, by Louis Drouet
Edited and with a Foreword by P. H. Bloom
Piano Score and Flute Part, PDF $5.99
We have posted Peter H. Bloom's fascinating and highly informative © foreword to this edition, in its entirety, elsewhere on our website, under Resources - Reviews & Articles, so please visit that page for additional historical details regarding the composer, Salute to New York, the New York Crystal Palace, and Hall & Son's flutes, beyond the short excerpts and paraphrases included here.
Louis-Francois-Philippe Drouet (1792-1873) is one of the most highly esteemed flute virtuosi in history. Innumerable contemporary press accounts of his concert triumphs throughout Europe attest to his technical brilliance and exquisite musicianship. He was a prolific and accomplished composer, author, flute theoretician, and pedagogue. His many etudes are still prescribed as tools for flute mastery. His Method of Flute Playing (1830) and 72 Studies on Style and Taste (1855) provide us with useful information concerning instrumental technique and performance practice in the mid-nineteenth century.
The exquisite Salute to New York, A Song for the Flute was performed by Mr. Drouet at the Crystal Palace in New York, on the occasion of its grand reopening under the new management of showman P. T. Barnum in 1854. Our renotated edition of the piece was edited by flutist Peter H. Bloom, who also has enhanced the original piano score with the addition of chord changes in order to broaden the scope of potential players.
Score, 4 pages; Flute part, 2 pages; Total, 14 pages.
Preview