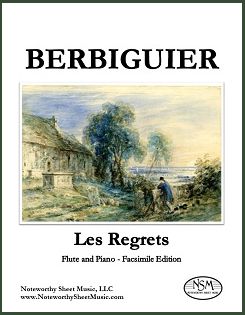 Les Regrets, Op.104, by T. Berbiguier
Gassett Collection - Facsimile Edition by C.A.Vater/NSM, with a Foreword by Peter H. Bloom
Flute Part and Piano Score, PDF $18.00
Berbiguier dedicated Les Regrets (Mélodie Concertante, Opus 104) to his close friend, the composer-'cellist Pierre-Louis Hus-Desforges. Les Regrets appears to be a missive of consolation from one musical colleague to another, both disillusioned and scarred veterans of decades of nationalist French intrigue. Though the initial theme is a plaintive rendering of a dour dead-march, its development is mournfully elegant. The subsequent developments serve to uplift performer and listener with a musical meditation that, though turbulent, avoids bathos. Dashes of a bit of scherzo here and there move the music, ultimately, to an heroic major-key finale.
For additional information about the Gassett Collection, please see see our article An Introduction to the Gassett Collection.
Piano score, 18 pages; Flute part, 6 pages; Total, 32 pages.
Preview