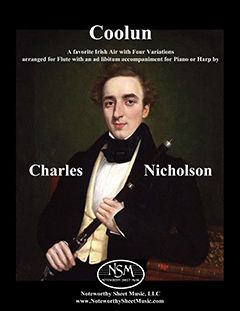 Coolun, A favorite Irish Air with Four Variations, by C. Nicholson
Gassett Collection - Facsimile Edition by C.A.Vater/Noteworthy Sheet Music
Piano Score and Flute Part, PDF $9.99
Charles Nicholson (1795-1837) was a masterful, hugely popular, and highly influential English flutist and teacher, famous for his individual style and powerful tone. Among Nicholson's compositions are 13 fantasies and 15 airs with variations, including Coolun. A favorite Irish Air with Four Variations arranged for the Flute with an ad libitum Accompaniment for the Piano Forte, or Harp. The "Coulin" or "Coolan" was described in an 1833 letter to the editor of the Dublin Penny Journal (www.libraryireland.com) as "an air, that once heard even in the earliest infancy, can never be forgotten—a melody which breathes the most touching tenderness and exquisite sensibility, and the memory of which, enables the Irish to hear Scotland's 'O, Nanny wilt thou gang with me,'—or her 'Banks and Braes,' without envious repinings."
Nicholson's consummate rendition of Coolun is highly effective when played either as a solo for flute alone or by flute with accompaniment of piano, lever harp, or pedal harp. The Gassett Collection print from which our facsimile was created consists of a score for piano forte and flute, without a separate flute part. The flute part included in our edition was created from the score using a modern music notation software program.
Noteworthy Sheet Music's publication of Coolun was favorably reviewed by Katherine Borst Jones in the January, 2014 issue of Flute Talk magazine. You can read the review, reproduced on our website for your convenience, or at Flute Talk (subscribers).
For additional information about the Gassett Collection, please see see our article An Introduction to the Gassett Collection.
Piano score, 6 pages; Flute part, 5 pages; Total, 15 pages.
Preview
==============================================================================
To order our print edition of Coolun, A Favorite Irish Air arranged for Flute and Piano or Harp for $16.98 plus a $5.95 shipping and handling fee to addresses in the USA. Use the Contact Us form to let us know which hard copy publication(s) you would like to purchase, along with your email contact information and USPS mailing address. We will then send you a PayPal invoice for the sale and, once we receive notice from PayPal that you have paid for the item(s), we will ship your music to the address provided.