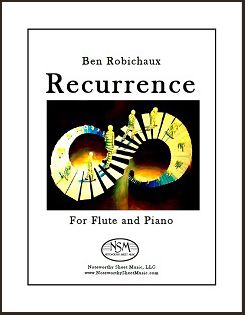 Recurrence, by Ben Robichaux
Contemporary Composition for Flute and Piano
Flute Part and Piano Score, PDF $12.99
NSM welcomed composer Ben Robichaux as a new contributor to our catalog in early June, 2017, when we published his piece Recurrence for flute and piano. For details of Mr. Robichaux's background, interests, and other works, please click the link to access the Composers section of the NSM website.
Recurrence was written for the composer's friend Michael Lyons. As outlined in the program notes, the "duet is framed in a traditional rondo form: ABACA. The returns of the A theme are never literal returns and repeated materials among the differing sections are never identical repetitions. These returns of A are the inspiration for the title, and the re-occurrence of the A material is a study on the lengths that a theme can be stretched and still be recognizable. The returns undergo extensive development. The B and C sections are meant to be extreme contrasts to the A sections as a means of cleansing the aural palate in order to erase the listener's memory of the theme. Despite the great lengths taken to blur the primary theme, its recognizability is undeniable. The closing section is a reflection on the basic differences among the three occurrences of the main theme. This final section is a summation of the processes that have previously been blurred by the contrasting sections of the piece. Ultimately the form portrays a futile fight that concludes with a peaceful resignation to the inevitable."

The premiere of Recurrence took place in July, 2017, with Kenneth Cox (flute) and Bronwyn Schuman (piano). The performance was recorded by audio engineer Charles Hagaman; a sample can be heard by clicking the mp3 icon.
The cover artwork for our publication was created by Scoop Brancisco, used with permission.
Piano score, 10 pages; Flute part, 3 pages; Total, 15 pages.
Preview