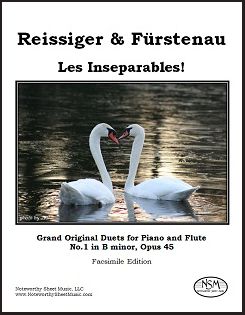 Les Inseparables!, Op.45, by Reissiger & Fürstenau
Grand Original Duets for Piano and Flute, No.1
Gassett Collection - Facsimile Edition by C.A.Vater/Noteworthy Sheet Music
Flute and Piano Parts, PDF $20.25
Carl Gottlieb Reissiger's Opus 45 was written as a Sonata for Violin and Piano, but was adapted for flute by Anton Bernhard Fürstenau. Fürstenau (1792-1852) composed and arranged many works for flute. He was among the most admired flutists of the 19th century and remains a well-known favorite of flutists today. Reissiger (1798-1859) was an accomplished composer of opera, orchestral, and chamber music. An influential figure in the city of Dresden, he served as Director of the Dresden Opera and later as Kapellmeister. Les Inseparables! No.1, is the first of the Three Grand Original Duets for Piano and Flute by Reissiger and Fürstenau. The piece, which consists of three movements, is a virtuosic work that should delight and challenge both players.
For additional information about the Gassett Collection, please see see our article An Introduction to the Gassett Collection.
Piano part, 21 pages; Flute part, 6 pages; Total, 33 pages.
Preview