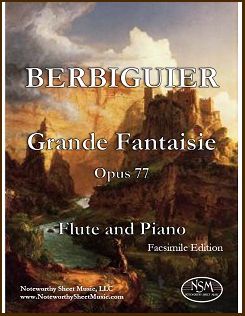 Grande Fantaisie, Op. 77, by T. Berbiguier
Gassett Collection - Facsimile Edition by C.A.Vater/Noteworthy Sheet Music, with a Foreword by Peter H. Bloom
Flute and Piano Parts, PDF $16.99
Benoit Tranquille Berbiguier (1782-1838) was among the preeminent European flutists of the early nineteenth century. Berbiguier was a prolific composer, and his nearly 150 published works include sets of duos and trios for flutes, as well as music that features flute with piano, orchestra, and chamber ensembles. His Grande Fantaisie avec Variations pour Flûte avec Accompagnement de Piano Forte (Opus 77) was composed on two motifs from Der Freischütz, Carl Maria von Weber's monumental opera which premiered in Berlin in 1821 and became an immediate international sensation. Sheet music for flute and piano.
For additional information about the Gassett Collection, please see see our article An Introduction to the Gassett Collection.
Piano part, 9 pages; Flute part, 8 pages; Total, 24 pages.