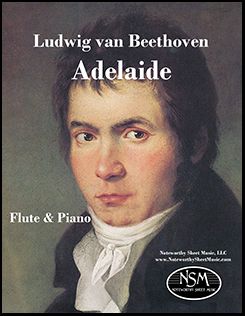 Adelaide, by Ludwig van Beethoven
Anonymous Arrangement for Flute, each edition with a Foreword by P. H. Bloom
New Edition, Flute Part and Piano Score (flute part in small staff) – PDF $10.50
Facsimile Edition, Flute Part and Piano Score (clarinet part in small staff) – PDF $8.25
Beethoven completed his musical setting for Friedrich von Matthison's poem Adelaide in 1796. The song quickly became a favorite interpretive vehicle for instrumentalists as well as singers. Clarinetist Iwan Müller's "bel canto" treatment, essentially the original melody with added ornaments, cadenzas, and interpretive notations, remained a favorite among concertizing clarinetists for more than a century. It's likely that Müller's work informs the anonymous arrangement for flute, published by Diabelli in the second quarter of the 19th century, that we present here .... This anonymous paraphrase of Adelaide is a masterful study of the subtle nuance and passionate restraint of "bel canto" instrumental praxis. (excerpted from the foreword © by P. H. Bloom)
After offering our facsimile edition of Adelaide for some time, we decided to create a newly-notated modern edition as well. We love (and perform) this piece so much, that we didn't want anyone to forgo an opportunity to acquaint themselves with it merely due to the 19th century presentation of the facsimile. Now, there is a choice between the facsimile edition and a modern edition, the latter of course having the flute part in small staff in the score.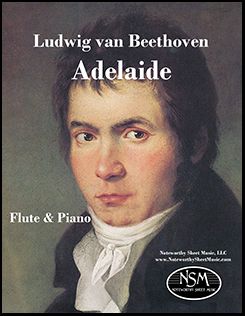 New Edition: Flute & Piano score, 10 pages; Flute part, 4 pages; $10.50.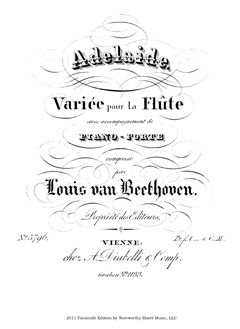 Facsimile Edition: Clarinet & Piano score, 9 pages; Flute part, 2 pages; $8.25.
================
We also offer a professionally-printed hard copy edition of Adelaide for $15.75 plus a $5.95 shipping and handling fee to addresses in the USA. Please use the Contact Us form to let us know which hard copy publication(s) you would like to purchase, along with your email contact information and USPS mailing address. We will then send you a PayPal invoice for the sale and, once we receive notice from PayPal that you have paid for the item(s), we will ship your music to the address provided.