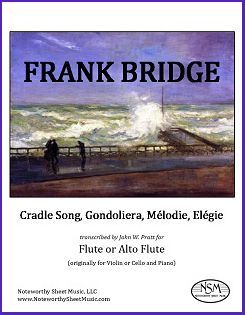 Cradle Song, Gondoliera, Mélodie, and Elégie, by Frank Bridge
Transcribed for Flute or Alto Flute (and Piano) by J. W. Pratt
Flute Part, Alto Part, PDF $11.99
Like the 4 Short Pieces for Violin and Pianoforte published in transcription by Noteworthy Sheet Music earlier this year, these additional four short pieces by Bridge "provide a fine and delightful introduction to an accessible post-romantic composer who should be better known." Published by Bridge between 1903 and 1911, the works included in our second edition are transcriptions of Cradle Song, written for violin or cello and piano, Gondoliera for violin and piano, and Mélodie and Elégie for cello and piano. Mr. Pratt has created transcriptions of all four pieces for both flute and alto flute, and we include both instrument versions in this combined edition. We think Cradle Song and Elégie are particularly beautiful on the alto flute, but all are effective on either instrument, so we prefer to let our flutists decide on which instrument they choose to play each piece. We provide our flute and alto flute parts only; the original piano scores work well with our transcriptions and are available, along with the violin and cello parts, as free pdf downloads at imslp.org—click the links to access the scores for Cradle Song, Gondoliera, Mélodie, and Elégie.
Flute part, 6 pages; Alto Flute part, 6 pages; Total, 14 pages.
Preview