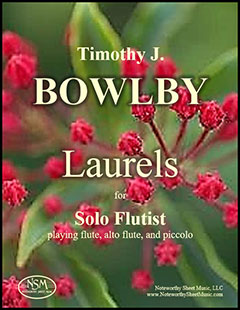 Laurels, by Timothy J. Bowlby
Contemporary Composition for Solo Flutist, playing flute, alto flute, and piccolo, PDF $9.00
—adapted from excerpts of program notes written by the composer, Timothy J. Bowlby:
Laurels
, for solo flutist playing flute, alto flute, and piccolo, was written in 2018 for two of the composer's flutist colleagues, Laurel Tempas and
Peter H. Bloom
. The piece is cast in a three-section form. The flute is featured exclusively in the initially march-like A section of the work. A "lyrical alto flute passage", requested by Mr. Bloom, starts the middle or B section and the piccolo concludes it; the overall affect is one of contemplation and reflection in nature. The concluding A' portion is begun by the piccolo and ends with a return to the flute and the march-like material that started the piece.
Flute part, 5 pages of music; Total, 8 pages.
Preview
The lovely cover
image
used for our
Laurels
edition is courtesy of wikiwand.com,
Kalmia latifolia, the mountain laurel, calico bush, or spoonwood, image of flower buds
. Attribution-ShareAlike 1.0 Generic (CC BY-SA 1.0). The image has been cropped, enlarged and sharpened.