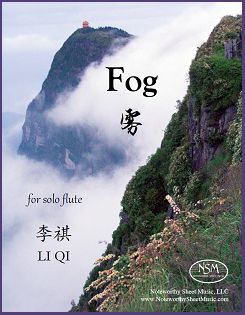 Fog, by Li Qi

Contemporary Composition for Solo Flute, PDF $5.99
Fog was written in 2012 by the up-and-coming young composer Li Qi. In addition to receiving other projects and awards, Li Qi was selected by the Wellesley Chamber Music Workshop to compose the program's commissioned piece for 2016, An Autumn Dusk in the Mountains for flute1, flute2/alto flute, cello, and piano.

Short, interesting, and challenging, Fog will appeal to advanced flutists and their audiences. Inspired by the poem "Stray Birds" by Rabindranath Tagore, the piece strives to capture in a musical way the recurring interplay between fog and sunlight, as a representation of the circle of life with all its sorrow, joy, and continuously-unfolding beauty. A recording of a 2012 performance of Fog by Heath White at the Jacobs School of Music, Indiana University, has been posted on YouTube; please click the link to listen.
Our front cover image is from Wikimedia Commons: "The Mount Emei" by pookieevans (CC BY-SA 2.0).

Flute part, 3 pages; Total, 7 pages.
Preview