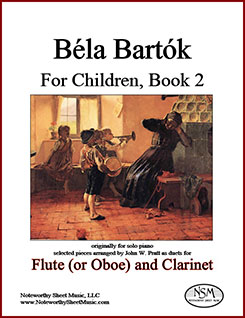 For Children, by Béla Bartók
Selected Pieces arranged as Duos or Trios for Winds by John W. Pratt
extracted from the preface: Béla Bartók was not only a major composer in a post-Romantic extended tonal style, but he was also a superb pianist with a precise technique, a scholarly explorer of folk music, and a serious pedagog. Folk melodies and harmonies strongly influenced his music, both indirectly and often directly, including many of his orchestral and chamber works, as well as solo piano pieces ranging in difficulty from easy to virtuosic. His For Children (Gyermekeknek, 1908-1909, Sz. 42) was written for solo piano, and the original Books 1 and 2 contained 42 pieces after Hungarian folksongs and 43 pieces after Slovakian folksongs, respectively. Besides the usual purposes of music written for children, Bartók sought to broaden their musical experience with, for instance, modal and other scales, and harmonies outside the traditional western canon. For Children is by no means pablum; though the notes may be easy to play, these pieces have a lot else to offer. They were written when Bartók's folksong research was well under way and his notational efforts at their peak. Students, teachers, and every-day players can make as much of them as they like ... as simple tunes for beginners content to learn basic notes and rhythms, or as more advanced studies on articulation, musicality, etc.
John Pratt is in the process of arranging Bartók's For Children for various wind duo and trio combinations. More editions will be added as they become available (all as downloadable PDFs). Click the edition you want to purchase in the table below and Add to Cart.
►
Bartók - For Children, Book 2 - arr. for Flute (or Oboe) and Bb Clarinet - PDF $12.75
The first of these NSM editions to be completed is that comprising selected entries from Book 2 arranged as flute (or oboe) and clarinet duets. Many of the For Children folksongs are entirely or mostly for two voices, like Bach's two-part inventions in style if not structure or harmony, and thus convenient for wind duo and no more childish for Bartók than Bach. Many others are also adaptable to flute or oboe and clarinet, mostly by spreading the left-hand chords in time. This edition includes 23 pieces from Book 2 arranged as duets; all of them can be played by clarinet and either flute or oboe, but we also include alternative versions that are more suitable for oboe for three of the pieces. We provide a score, but not separate parts, as both players can easily play off copies of the score.
Score, 17 pages; Total, 22 pages.
Preview For Children, Book 2, Flute (or Oboe) and Clarinet