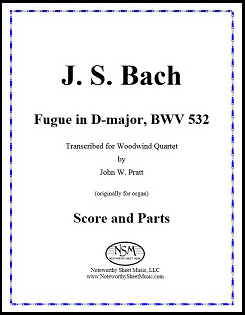 Fugue in D-major, BWV 532, by J. S. Bach
Transcribed for Woodwind Quartet by John W. Pratt
Score and Parts, PDF $21.25
Among the big Bach organ fugues, BWV 532 is unusually well suited to woodwind quartet. Written during Bach's early, carefree Weimar period (only four children to support), it is high-spirited and even witty. It benefits from having a separate sonority for each voice, especially when the countersubject interjects a perky comment in the subject's empty space. It has rapid passage work throughout, almost suggesting Mendelssohn — but his chamber music, not his organ music!
The woodwind quartet arrangement (for flute, oboe, B-flat clarinet, and bassoon) preserves Bach's four voices almost exactly. Click to preview p2 of the score for Bach's Fugue in D major for woodwind quartet.
Score, 11 pages; Parts, 20 pages; Total, 34 pages.