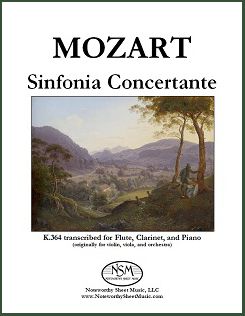 Sinfonia Concertante, K.364, by Wolfgang Amadeus Mozart
Transcribed for Flute, Clarinet, and Piano by John W. Pratt
(originally for Violin, Viola, and Orchestra)
Piano Score, Flute & Clarinet Parts, PDF $17.99
Excerpted from the Foreword by J. W. Pratt: "The idea that every piece, especially a major one, can be satisfactorily transcribed for whatever instruments one would like is one I firmly reject. However, a trio arrangement of this Sinfonia Concertante for flute, clarinet, and piano can, I believe, capture and present in a new light many of the wonders of this great work, even the wonders of its sonorities. .... In the arrangement here, the flute and clarinet almost always play either a solo part or an orchestral part with only octave changes. .... For the piano, on the other hand, straightforward orchestral reduction is often ineffective and unsatisfying, and that would certainly be true here, even with the flute and clarinet taking some wind parts. I have attempted instead to find natural piano "orchestrations" as alternatives to Mozart's orchestral layouts, especially where the full orchestra is playing. .... Such effects, often heightened on returns, are better suited to the piano's capabilities and its role as a member of a trio than a straightforward reduction would be. .... The music available for flute, clarinet, and piano includes surprisingly few major works. The purpose of our arrangement is to add a significant piece to this repertoire and to enable players and listeners to enjoy Mozart's magnificent Sinfonia Concertante in a new way."
Click to preview a page of the score from Mr. Pratt's transcription of the Mozart Sinfonia Concertante for flute, clarinet, and piano.
Score, 41 pages; Flute part, 18 pages; Clarinet part, 17 pages; Total, 82 pages.