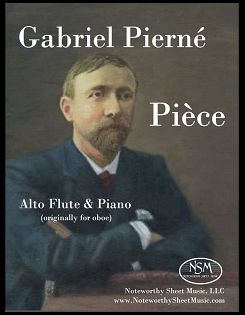 Pièce, Op.5, by Gabriel Pierné
Transcribed for Alto Flute and Piano by Carol A. Vater
Piano Score and Alto Flute Part, PDF $6.99
The Pièce en sol mineur for oboe (or violin or cello) with accompaniment of piano was composed by Gabriel Pierné in 1883. The alto flute is especially well-suited to this delightful, romantic piece, which falls completely and comfortably within the alto flute's range.
Our edition includes both the alto flute part and the piano score. Click to preview p1 of the score.
Piano score, 5 pages; Alto Flute part, 2 pages; Total, 12 pages.