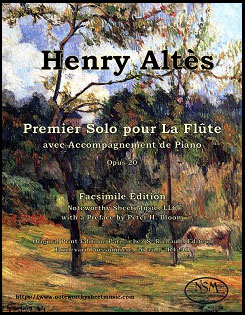 Premier Solo pour La Flûte, Op. 20, by Henry Altès
Facsimile Edition by Noteworthy Sheet Music
with a Foreword by Peter H. Bloom
Flute Part and Piano Score, PDF $12.75
Henry Altès (1826-1899) is primarily remembered today as the author of a particularly useful Méthode Complète de Flûte (1906), yet his impact on fellow flutists for nearly a century-and-a-half can hardly be overestimated. A student of the Boehm flute pioneer Louis Dorus, Altès succeeded Dorus as Professeur au Conservatoire de Parisupon upon the latter's retirement in 1869 and served in that capacity for a record twenty-eight years. Premier Solo pour La Flûte was dedicated to Louis Dorus, and was the first of ten Morceaux des Concours that Altès would write for the annual Paris Conservatory competition. That this was the only one of the ten to have been required in two contests speaks to its endearing durability. (excerpted from the foreword by P. H. Bloom)
The NSM edition of the Premier Solo pour La Flûte avec Accompagnement de Piano by Henry Altès is an "enhanced" facsimile of the original print publication from Paris, chez S. Richault, Editeur, Boulevard Poissonniere, 26 au 1er, R4241. We used an image editing program to clean up digital scans of the original printed pages and make a few minor modifications and corrections, as noted in our publication. We have added a new cover page (paying tribute to Altès' birthplace of Rouen with a painting by Gauguin) and a foreword by Mr. Bloom, but the music has not been re-notated and thus remains in the original style and format; please have a look at the free preview pages provided before ordering.
Piano and Flute score, 12 pages; Flute Part, 5 pages; Total, 22 pages.
Note: if the Buy Now button fails to deliver you to PayPal, please use the Add to Cart button instead, or Contact Us for assistance.