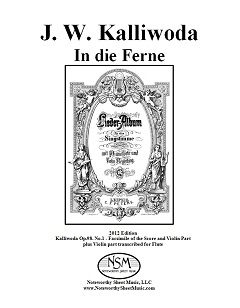 In die Ferne, Op.98, No.1, by J. W. Kalliwoda
Facsimile Edition plus Transcription of Violin part for Flute by C.A.Vater
Score for Violin, Voice, & Piano, Violin Part, Flute Part, PDF $5.99
Johann Wenzel Kalliwoda (1801‒1866) was a Bohemian violinist, conductor, and composer who spent much of his career in Donaueschingen, where he served as the conductor of the court orchestra for Prince Karl Egon II of Fürstenberg. Kalliwoda composed numerous works, including operas, symphonies, pieces for piano, violin and orchestra, and chamber music.
Kalliwoda's song In die Ferne (Far Away) was published in a nineteenth century collection of lieder, along with several songs by Hauptmann and Reinecke. The vocal range of In die Ferne extends from E4 to G#5, and thus is well-suited for either soprano or mezzo-soprano. Our edition contains "enhanced" facsimiles of the original score (violin, voice, and piano) and violin part, plus a transcription of the violin part for flute created using a modern music notation program. Therefore, In die Ferne may be performed using the accompaniment of either violin or flute, along with the voice and piano.
Score, 6 pages; Violin and Flute parts, 1 page each; Total, 12 pages.
Preview
===============
U.S. customers may purchase professionally-printed hard copies of In die Ferne for $10.18 plus a $5.95 shipping and handling fee. Please use the Contact Us form to let us know which print edition(s) you would like to purchase, along with your contact information and your USPO mailing address.